H.E. DEJAN RALEVIC
Ambassador Extraordinary and Plenipotentiary
of the Republic of Serbia in Canada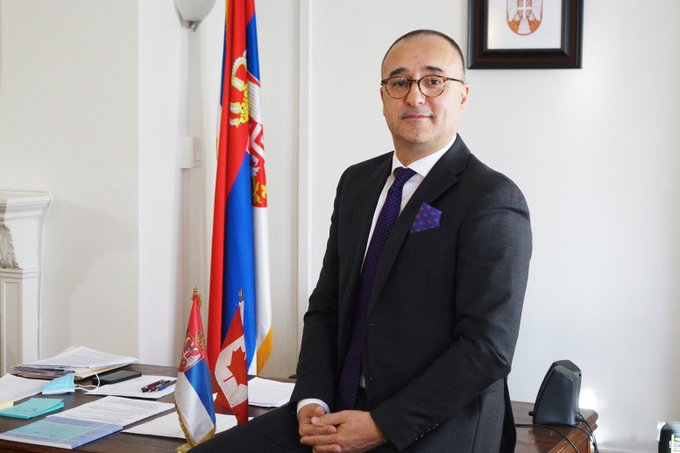 Dear visitors, dear Canadians, dear compatriots, welcome to our site.

With great pleasure and enormous pride I came to Canada to serve and represent the Republic of Serbia as its ambassador. My colleagues and I fully understand the challenges, including the geographical distance between Serbia and Canada, but it is precisely our task to be a bridge that will bring us closer. Our history confirms that we were allies in the times of the greatest temptations, as we are today. The strongest ties between the two countries are our citizens who live and work in Canada, and we do pay special attention to them.
Expecting two countries to be connected by a direct air flight soon, we will continue to work on bringing our economic operators closer, based on trade and investments, strengthening bilateral political ties, as well as cultural, sports and scientific cooperation. We are aware of all the challenges due to today's global pandemic, which, once again, reminds us that human health and safety are a priority.
The Embassy will continue to be at the service of our citizens living and working in Canada, as well as to improve all consular services.
We are especially looking forward to marking, in 2021, hopefully in better conditions, the eighty years of establishing diplomatic relations between Serbia and Canada.
Hoping that you will help us with suggestions and remarks to upgrade the work of the Embassy.

With respect,
Dejan Ralevic
Ambassador of the Republic of Serbia to Canada
Long live Serbia, long live Canada!
---

Discours de bienvenue de l'ambassadeur

Chers visiteurs, chers Canadiennes et Canadiens, chers compatriotes, bienvenue sur notre site.
Avec un grand plaisir et une immense fierté, je suis venu au Canada pour représenter la République de Serbie à titre d'ambassadeur. Mes collègues et moi comprenons parfaitement les défis, y compris la distance géographique entre la Serbie et le Canada, mais c'est précisément notre tâche d'être un pont qui nous rapprochera. Notre histoire nous confirme que nous étions alliés et partenaires au temps des plus grandes tentations, comme nous le sommes aujourd'hui. Les liens les plus solides entre les deux pays sont nos citoyens qui vivent et travaillent au Canada, et nous leur accordons une attention particulière.
En espérant que deux pays seront bientôt reliés par un vol direct, nous continuerons à travailler au rapprochement de nos opérateurs économiques, sur la base du commerce et des investissements, au renforcement des liens politiques bilatéraux, ainsi que de la coopération culturelle, sportive et scientifique. Nous sommes conscients de tous les défis liés à la pandémie mondiale d'aujourd'hui, qui, une fois encore, nous rappelle que la santé et la sécurité humaines sont une priorité
L'Ambassade continuera d'être au service de nos citoyens vivant et travaillant au Canada, ainsi que d'améliorer tous les services consulaires.
Nous sommes particulièrement impatients de marquer, en 2021, dans de meilleures conditions, espérons-le, les quatre-vingts ans d'établissement des relations diplomatiques entre la Serbie et le Canada.
En espérant que vous nous aiderez avec des suggestions et remarques pour améliorer le travail de l'ambassade.

Respectuesement,
Dejan Ralevic
Ambassadeur de la République de Serbie au Canada
Vive la Serbie, vive Le Canada!