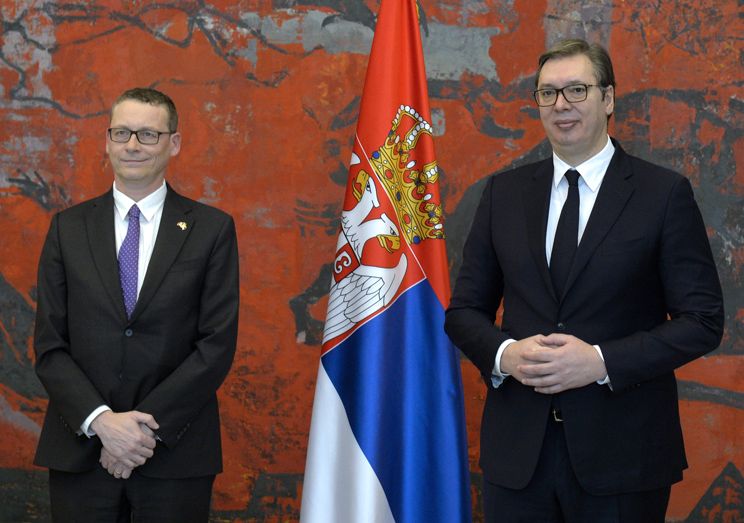 President of the Republic of Serbia Aleksandar Vučić received today the letters of credence from the newly appointed Ambassador of Canada, Giles Norman, and welcomed him emphasising that he takes office in Belgrade in the year when Serbia and Canada mark a significant jubilee - 80 years since the establishment of diplomatic relations.
President Vučić and Ambassador Norman stated that the jubilee is both an opportunity to strengthen political dialogue and an incentive to develop partnership and Serbian-Canadian ties in all areas.

President Vučić expressed satisfaction that Canadian investments are on the rise because that means that the Serbian market has proven to be a good place to invest. He expressed hope that, in addition to mining and energy, other economic areas will be of interest to Canadian business people. He also said that in Serbia we could use Canada's experience in environmental protection.

The two interlocutors expressed hope that a direct airline between Belgrade and Toronto would be opened soon, which would contribute not only to the improvement of economic relations but also to a better connection between Serbia and Canada's citizens. On that occasion, they pointed out that the Serbian community, which lives on Canadian soil, represents an important bridge between the two countries.

President Vučić also expressed gratitude for the support that Canada provides to Serbia's European path, emphasising that our country is seriously approaching reforms, especially in the area of the rule of law.

Ambassador Norman welcomed Serbia's commitment to a solution to the Kosovo and Metohija issue through dialogue.

Ambassador Norman expressed respect for how the Serbian authorities are successfully responding to the challenges of the pandemic. He also informed President Vučić about the plans for the production of the vaccine developed by Canadian experts.
Belgrade,
17th February 2021
---